back to wagons
Flat
Saghmmns-ty
The wagon Saghmmns-ty is the 6-axle special flat wagon with detachable loading frame designed for transportation of slabs and sheet coils. After removal
of the loading frame, the wagon can be used for transportation of containers 1×40 ́, 2×20 ́ or 1×20 ́. The loading frame is designed for transportation of 5
coils (1×40 t, 2×45 t and 2×15 t) and for transportation of slabs of 12 m length. The slabs are loaded to the loading frame from the top, and they can be
stacked in 4 layers one on another. In the lateral direction, the coils are secured by means of the system of suspended plates, and slabs by means of side
detachable stanchions. The wagon complies with regulations of TSI-WAG, valid UIC leaflets, ERRI recommendations, agreement on mutual application of
freight wagons in the international transport AVV (RIV) and with EN standards. The wagon is designed for operation without any limitations on all European
tracks with normal track gauge and for climatic conditions with T1 temperatures from -25 oC to +40 oC according to TSI-WAG. The wagon meets the
conditions for GE marking, according to TSI-WAG.
I want to know more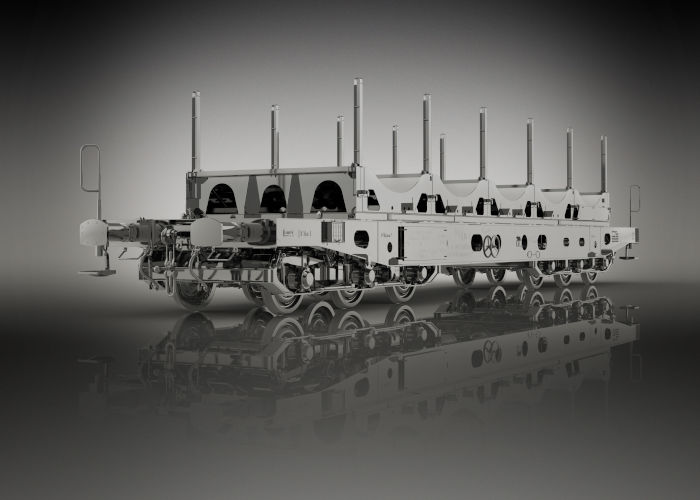 ;
| | |
| --- | --- |
| Track Gauge | 1435 mm |
| Tare | 35 t |
| Mass of loaded wagon | 135 t |
| Maximum axle load | 22,5 t |
| | |
| --- | --- |
| Loading weight | 100 t |
| Max. speed of empty/loaded wagon | 120 km/h / 100 km/h |
| Brake | KNORR KE-GP-A(K) – 2x12" |
| Type of bogie | BA 714.4, 2xBg |